News
27 October, 2022
Highway 40 eastbound in Sainte-Anne-de-Bellevue - Complete closure - Weekend of October 28, 2022
Category : Info-works
The ministère des Transports informs road users that Highway 40 will be closed eastbound between des Anciens-Combattants Boulevard and Chemin des Pins during the weekend of October 28, 2022. This closure is required as part of the ongoing repair of the Chemin des Pins overpass and may occur again over the next few weekends.
Obstacles and traffic management
Highway 40 (Félix-Leclerc) eastbound
Complete closure between Exit #41 - Ste-Anne-de-Bellevue / Boul. des Anciens-Combattants and the next entrance from Friday 11:59 PM to Monday 5:00 AM.
o Traffic will be diverted to the service road.
o Potential congestion is expected.
Partial closures are to be expected at night on the service road. Only one lane will be available in the work site.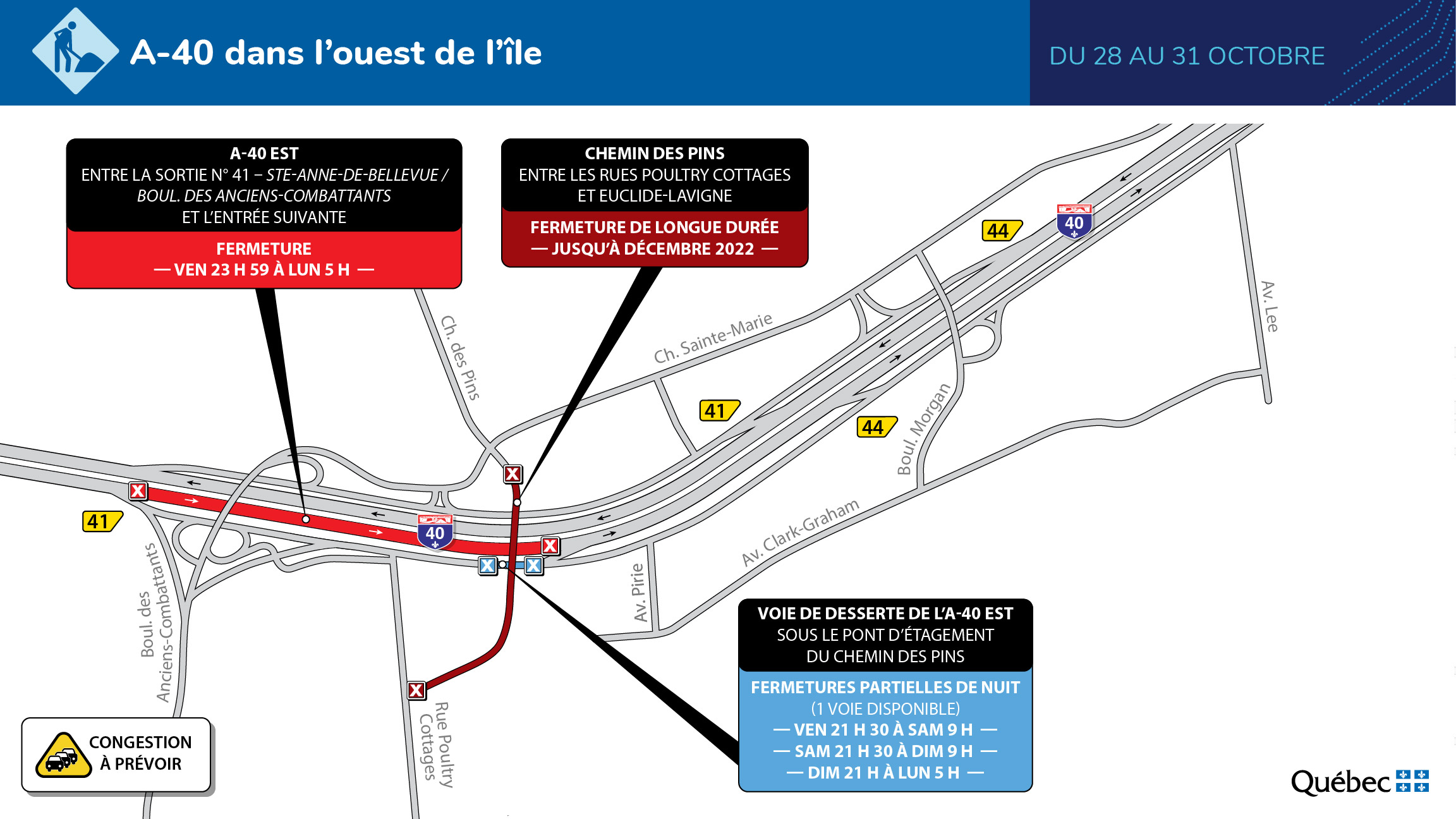 Reminder (through December 2022):
Long-term complete closure of Chemin des Pins between Poultry Cottages Street and Chemin Sainte-Marie.
o Local traffic will be allowed between Euclid-Lavigne Street and Chemin Sainte-Marie.

In the event of unfavourable weather conditions or operational constraints, the start of the work site may be delayed.
In order to properly plan your travels, please consult the Quebec 511 for current and upcoming roadblocks.
This project is included in the 2022-2024 list of road investments for the Montreal region.
The Ministère thanks road users for their cooperation. For the safety of road users and workers, it is essential to respect the signs in place.